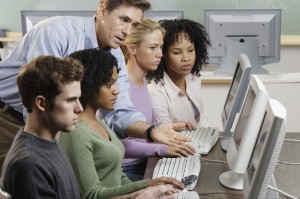 MOOCs have now become part of the dialogue in higher education for debating "what is the purpose of the university?" David Brooks  hypothesizes that the purpose of universities is to "transmit technical and practical knowledge." In my mind the intersection of technical and practical knowledge is embedded in the overall student lifecycle. There's another question that should be included in the discussion. How does online education seamlessly integrate into all aspects of the higher education student lifecycle?
3 Ideas to Integrate MOOCs in the Student Lifecycle.
Start at the beginning of the lifecycle with student recruitment. Are there opportunities for pre-college courses to be developed and leveraged as an incitement for recruitment efforts? What about a weekend seminar introducing a popular faculty member and academic discipline?
Augment and extend degree program offerings.  Students could engage in MOOCs during the summer to build skills for translating their academic experience to support landing a job after graduation.
Provide more flexibility to low residency executive education programs. Busy executives could extend their residency experience through participation in online courses with their peers in the program.
Question to Consider:
What other intersection points exist for MOOCs in the higher education student lifecycle?
Are you interested in having a conversation about how your institution considers the MOOCs question? Contact me at [email protected].
Disruptive change and the impact of MOOCs on higher education is still top of mind for me. LinkedIn Group discussions, opinion pieces in the Chronicle of Higher Education, Insider Higher Education and industry blogs passionately focus on this topic.  As online and hybrid teaching and learning models expand across the higher education ecosystem, the alternatives are either to make change or to be changed.  William G. Bowen writes in The Chronicle  that three barriers stand in the way of online education to be truly transformational. In a nutshell, these are:
Lack of consistent research that offers evidence of improved or equal learning outcomes in online education delivery modes and evidence of cost savings;
Lack of teaching and learning platforms that are customizable, scalable, shareable and cost effective; and
The need for a fresh institutional leadership mindset and approach to decision making with the goal of innovating teaching and learning.
Bowen's article illustrates the need to take a measured and thoughtful approach to apply new teaching and learning models.  And, importantly, retain aspects of the academic experience that cannot be quantified and assessed.
In my previous blog post, I posed questions about student services and incentives for reinventing pedagogy for next generation learning models.
Conversation Starter:
What aspects of the teaching and learning experience are worth preserving as delivery and engagement modes shift?
Are you interested in having a conversation about how innovation in teaching and learning models influence the student experience? Contact me at [email protected].
Thomas Friedman gets it right in his op ed article The Professor's Big Stage. Higher education is in the midst of disruptive change. A key point is that new modes of course delivery – such as MOOCs (massive open online courses) are revolutionizing higher education worldwide. MOOCs delivery modes prove to broaden access to education. However, MOOCs are most successful when blended with an in person discussion forum (here's another great article about MOOCs and how in person peer study groups influence successful outcomes). At this point, higher education institutions are not equipped to scale support of in person discussion forums for a MOOC.
Where to begin? Here are two possible questions to get the conversation started for higher education leaders.
1.  How can student services be restructured to support successful learning outcomes in blended learning environments?
2.  What support or incentives are required for faculty to reinvent pedagogy for next generation learning models?
The call to action is to think differently and innovate the entire education ecosystem. My favorite line in Thomas Friedman's article is "average is over." Brilliant.
Are you interested in having a conversation about how your institution responds to disruptive change? Contact me at [email protected].
photo credit: giulia.forsythe via photopin cc