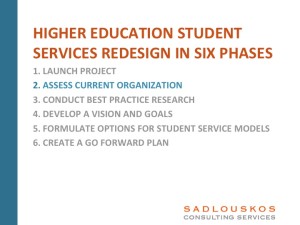 "Assess the Current Organization" is the third in a blog series that provides a high-level process roadmap for structuring a student services redesign initiative. This process can be applied in all higher education institutions for entire student services organizations or individual departments. To review this blog series from the beginning, click <here>.
In Phase 2, the goal is to gather sufficient intelligence about how students are served as they navigate from being a prospective student to an alumnus of the institution. If an individual department is under review, the goal is to understand where these services fit into the student services eco-system. There are four steps in this assessment phase:
 Step 1: Review background data.
The background materials may include: department strategic plans, marketing materials, process maps, annual reports and other existing service materials. The goal is to understand the student services eco-system in its entirety.  Intelligence gathered during this step is used to develop interview guides, focus groups guides and survey tools.
Step 2: Conduct individual interviews.
Individual interviews are conducted with campus, academic, and administrative leaders in each of the student service areas.  The goal is to develop a complete picture of the strengths, challenges and opportunities to improve services.
Sample questions may include:
Describe the strengths of the current student services model.
What distinguishes your institution's student services from others?
What is your institution's vision for student services?
Where are there opportunities for improvement?
What role will campus leadership have in guiding student services towards their vision?
How will instruction influence this process?
What guiding principles should the steering committee consider when prioritizing initiatives?
Which external organization's student service model do you recommend for best practice research?
Interview results are then used as input to design focus group guides.
 Step 3: Conduct focus groups.
The objective is to ensure that all key demographic perspectives are represented in the organization review.  Focus groups are assembled with students, cross-sections of departmental staff, and faculty. Focus group questionnaires are developed with the audience in mind.  As an example, student focus groups may focus on identifying experiences as they progress from enrollment through commencement.  The facilitators gather real stories to add qualitative context. Faculty focus group participants may discuss what they see and hear from students and how current service models impact the academic experience. Staff provides insight into opportunities for service improvement, service strengths and ideas for vision.
 Step 4:  Analyze data.
The final step in this process is analysis and synthesis of all data collected.  The project team will create a State of Student Services Assessment Brief. This document represents a summary of findings.
 Questions to consider:
What student needs are currently going unmet?
Does the State of Student Services Assessment Brief provide a complete picture of the current environment?

Questions about this phase or how to begin a student redesign initiative? Contact me at
[email protected].