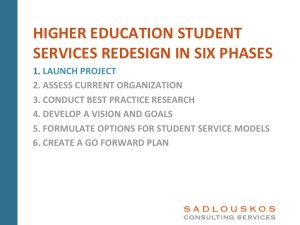 "Launch Project" is the second in a blog series that provides a high-level process roadmap for structuring a student services redesign initiative. This process can be applied in all higher education institutions for entire student services organizations or individual departments. To review this blog series from the beginning, click <here>
There are two goals in the Launch Project phase. The first goal is to confirm the approach, scope and objectives of the project. The second is to establish the foundation for a well-structured project to ensure success.  Phase 1 is organized into 3 steps:
Step 1: Organize the Project Team
This is accomplished by allocating key project responsibilities and setting up project management processes and tools. In this step, the project leader ensures that each of these responsibilities are assigned:
Timeline, schedule and resource management
Project communication
Focus group facilitators
Interviewers
Best practices researchers
These responsibilities can be combined as required by resource allocation for this project.   A key deliverable of this step is a project charter.  This document will provide an overview of the project organization and plan; detail the approach, scope and objectives;  include a communication plan and qualitative and quantitative project metrics.
Step 2: Convene Project Kickoff Meeting
A formalized steering committee is the audience for the kickoff meeting. The project leader uses the project charter to guide the conversation to confirm the project's approach, scope and objectives. In addition, the approach for data collection, draft list of interviewees, focus groups and proposed peer institutions for best practices research are presented. A formal communication plan is also reviewed and confirmed with the committee.
Step 3: Launch Project
The project leader is now ready to initiate the project.  At this point, interviews and focus groups are scheduled and formal communication is sent out about the student services redesign effort.
 Questions to Consider
Does the project team have sufficient resources to enable success?
Are project communication tactics with the project sponsor, steering committee, key stakeholders and campus constituents clearly defined and ready to execute?
Who needs to be included on the steering committee to ensure project has cross-campus support and buy-in?

Questions about this phase or how to begin a student redesign initiative? Contact me at
[email protected].