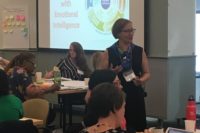 Each leadership development and higher education consulting engagement is custom, and is based on the unique attributes of each  institution. Below are sample engagements where Dianna has worked to identify and conquer complex business issues.
Leadership Development in Higher Education
As a recognized executive and leadership advisor, Dianna has developed a unique advisory framework that blends her vast subject matter expertise in higher education with traditional leadership development and coaching methodologies. Engagements include:
The development of specialized courses for leadership institutes;
The development of custom leadership advisory services for presidents, provosts, vice presidents, and deans; and
The development of retreats and workshops for presidential cabinets and boards, leadership teams (academic & administrative), and aspiring leaders. Sample topics include: developing cohesive teams, consensus building and collaborative decision making, leading with emotional intelligence, and conflict management.
Strategic Planning & Operations Improvement

As a veteran management consultant, Dianna has led/contributed to engagements in academic, administrative, technology areas ranging from departmental to system-wide initiatives in higher education and in not-for-profit organizations. Engagements include:
The development of several technology organization strategic plans that align with institutional priorities;
The development of strategic planning processes and plans for small liberal arts colleges and individual academic schools and departments;
The development of an end-to-end student experience lifecycle assessment to inform the technology vision for a 34-community and technical college system;
Co-facilitated the development of a campus-wide research informatics strategic plan for a R1 university;
The redesign of an administrative services organization with cost reduction strategies; and
A feasibility study to identify an optimal membership and business model to grow and support a program within a cancer survivorship and research focused not-for-profit organization.
Ready to start a conversation about your support needs? Contact Dianna at [email protected].