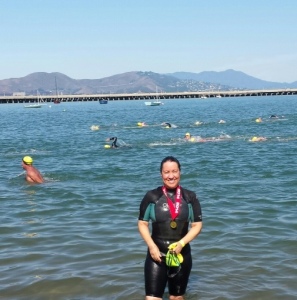 Generally, I write about strategic planning or operations improvement in higher education.  Last month, however, I swam from Alcatraz to San Francisco.  At first I didn't know that setting this personal goal and the hours of swimming in the ocean as I trained for the event had any connection to my professional pursuits.
I was wrong. After the event, I saw how my personal passion for swimming and for challenging my physical limits related specifically to my work.
Six things I learned from the Alcatraz swim that transforms how I approach my higher education consulting practice.
 1. Jump off the boat with abandon.
The day of the swim, I was confident in my ability to swim from Alcatraz to Aquatic Park. Turns out, the swim wasn't the hard part of the endeavor.  Jumping off the boat seemed more challenging. As my toes hovered over the edge of the boat deck, fear paralyzed me. I took a deep breath, looked up at the beautiful blue sky, then glanced down at swirling water. My heart beat fast in anticipation. The unknown energized me, and I leaped. I was exhilarated – not afraid.  My attitude during the whole of my training for this event was that it was a "swim".  I learned that, once I hit the water, it became a "race." My love of "the race" propels me forward in all that I do, in a most positive and spirited way. Racing requires strategic thinking and a methodical approach. There are always unknowns, but it's ok to not have all of the answers- adaptability and creativity are key elements.
Lesson: Take risks – don't look back.
2. Do the work- stroke, breathe, stroke, and breathe.
I'm an avid pool swimmer who had a fear of the unpredictability of swimming in the ocean. I feared shark attacks, stepping on stingrays, jellyfish stings, ocean currents, swells and surf.  Some of my fears were irrational; some were a matter of awareness and spending time swimming in the ocean (much different from swimming in a pool). I substituted pool workouts for coached ocean swims and in the process learned to accept the unknowns. On the other side of all the preparation and practice I am a converted open water swim enthusiast.
Lesson: Never underestimate the importance of preparation and practice.
 3. Keep sighting the course ahead.
In open water swimming, it's critical to sight a landmark to stay on course. Every 20 or 30 strokes I looked to sight two tall buildings behind Aquatic Park (the finish line), ensuring I was on course. If the current took me too far to the right, I swam in the direction equivalent of 10:00, or 2:00 if I were too far to the left.  Sighting on a consistent basis kept me on track for a more efficient, linear swim toward Aquatic Park.
Lesson: Goals need to be tangible- check on progress regularly.
 4. Stop and look around.
In the middle of the bay, I paused to take in the moment. Behind me Alcatraz, on either side of me the Golden Gate Bridge and the Bay Bridge, in front of me, the city of San Francisco. The sheer size of these iconic landmarks, treading water in the middle of the bay on this gorgeous sunny day: I was in awe of the beauty . As I started swimming again, I thought "not many people have the opportunity to enjoy the view from where I am – swimming in the bay." My perspective was forever changed from that moment forward.
Lesson: Be present.
5. Cross the finish line with a tear and a smile.
Once I passed the sea wall entrance to Aquatic Park, I knew I had only a short 500 yards or so to the finish line.  I still had so much energy that I accelerated my stroke. When I ascended from the water to the shore with a few other swimmers I was overwhelmed with emotion – smiling uncontrollably with a few tears as well. As I looked for my sister and my friends I thought to myself, "I can't wait to do this again next year."
Lesson: Relish in the success.
6. Set a new goal. What's next? Perhaps a swim around Manhattan…                    
Lesson: Smart, confident and directed- that's who I am.
You've just read my professional and personal manifesto.
Would you like a fresh perspective on your campus or technology strategic plan?  Let's get the discussion started- contact me at [email protected].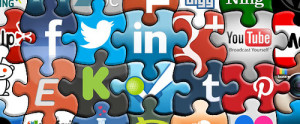 This post is part of an occasional career focused blog series for aspiring Higher Education CIOs or sitting CIOs. Previous posts can be accessed here.
Yesterday I read a great blog post by Dr. James Michael Nolan, President of Southwestern College.  He makes a case for the importance of social media in the business of higher education.   Social media is in large part how students engage in and develop relationships. Prospective students use social media to research and select where they will ultimately attend undergraduate or graduate school. Dr. Nolan states that student recruitment efforts rely heavily on social media as a marketing (and dare I say sales) platform because it's where students hang out. Social media is how institutions build relationships with prospective students.
For career strategy, I believe that social media is an important tool for building a personal brand. If you are a sitting higher education CIO or an aspiring CIO, it is critical to consider how you are perceived in the broader IT community.  What expertise are you known for amonst your peers?  What attributes do you want your personal brand to represent? Moving up the IT career ladder requires an investment in building relationships across the broader IT community. Social media is the new model for establishing relationships locally and globally with other IT professionals, faculty, staff, student and higher education service providers — from your desk.  Dr. Nolan correctly states, "…relationships no longer begin with a handshake — they begin with a Retweet, a Like, a Share, a Subscribe, a Comment, an interchange in social media." Whether you are sharing your opinion in LinkedIn Groups with like-minded peers, or tweeting articles that catch your attention- social media provides a ready platform to launch your personal brand as a leader in higher education.
Where to begin?  Start by studying how the early adopters use social media. Review profiles on LinkedIn and join LinkedIn Groups that share your interests.  Examples of groups are "EDUCAUSE" and if you're interested in discussions on the benefits of technology on learning try the group "Improving Education Using Technology."
There are many savvy higher education CIOs that have established a presence on social media; in essence building their personal brand. The key is to provide useful information about your area of expertise/interest through the lens of your own unique personality.
 4 Higher Education CIO Twitter Accounts to Follow:
Take small steps in delving into social media.  Start by reviewing (or building) your LinkedIn profile. Ensure the content is well written and represents your accomplishments professionally. Conduct a search for a few groups to join.  Take time to read posts and comments to provide a sense as to how individuals participate. Sign up for a Twitter account and begin following a few individuals and organizations that interest you.
Questions to Consider
How do you think your personal brand is perceived by others?
What do you want my personal brand to reflect? Academic Technology guru? Innovative solution provider? Higher Education IT Visionary?
What steps do you need to take to ramp up to your desired profile?
Interested in feedback on your career planning efforts or professional portfolio? Contact me at [email protected].